Peter Freedman AM, Founder and Chairman of RØDE Microphones and the principal private donor for the Sydney Festival, hosted an exclusive soiree at his penthouse overlooking the spectacular Sydney Harbour on Sunday January 13th, to celebrate the world premiere of 2019 festival highlight, Shànghǎi MiMi.
As well as entertaining the international cast and crew of the Australian/Chinese cabaret, the party hosted in excess of 80 guests from Australian arts, industry and philanthropic circles, including: the Federal Member for Wentworth, The Hon. Dr Kerryn Phelps AM, MP; NSW Minister for the Arts, The Hon. Don Harwin MLC; Sydney Festival Artistic Director, Wesley Enoch; Festival Executive Director, Chris Tooher; and the Artistic Director of the Australian Ballet, David McAllister AM. Mr Freedman's passion for the Sydney Festival was an inspiration for his fellow donors and for the prospective donors in attendance.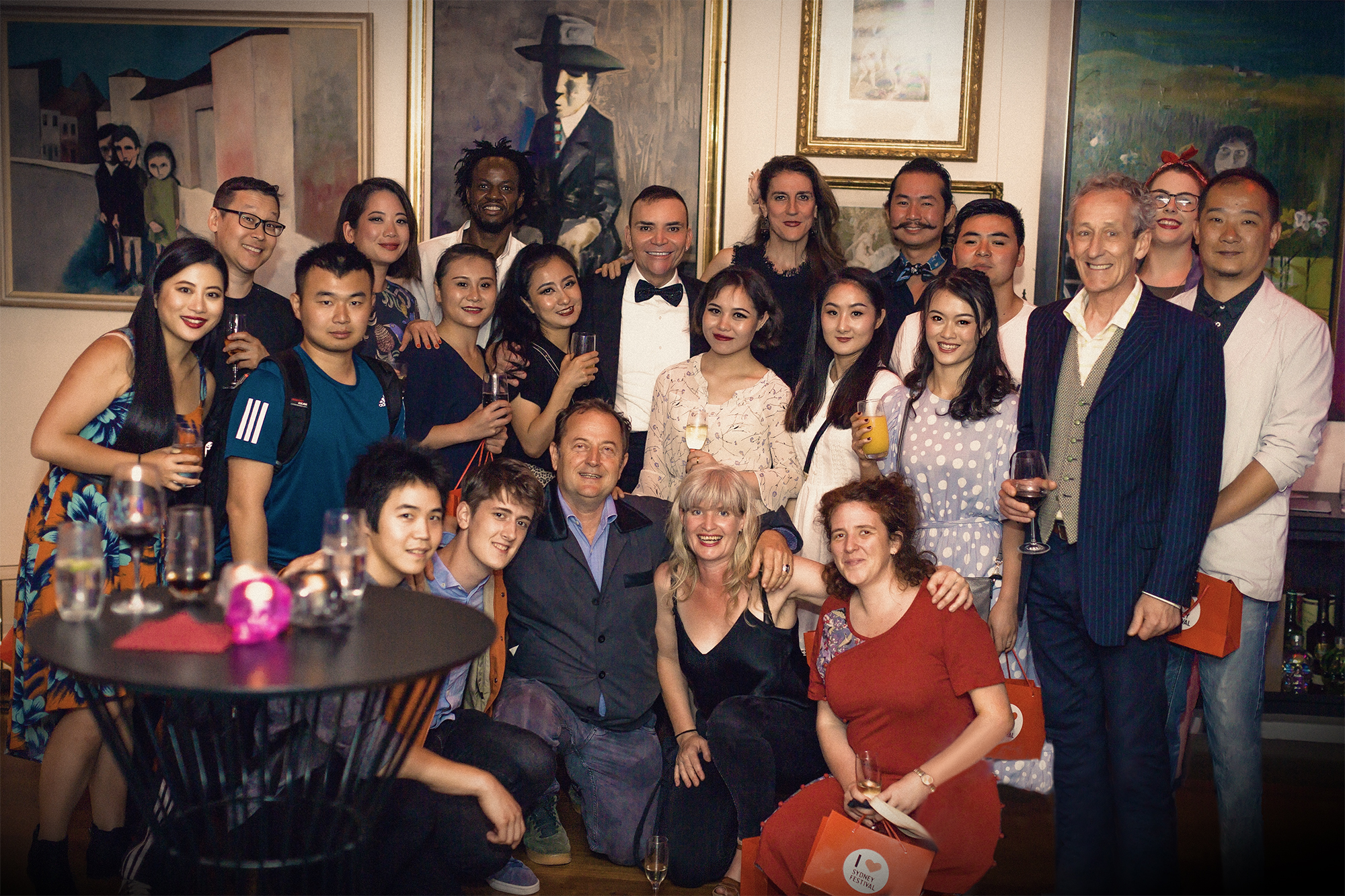 Peter Freedman AM (back row, centre) with the cast and crew of 'Shànghǎi MiMi', including director Moira Finucane (back row, centre right) and producer Douglas Hunter (third from right).
"The Australia of today is inclusive, it's beautiful, and we can celebrate our differences working together for a common goal. The Sydney Festival is representative of that ethos," Mr Freedman told the gathered guests. "That's why I have been a very proud supporter since 2013. With its international flavour, combination of music, theatre, dance and so much more, Shànghǎi MiMi is quite amazing – an incredible celebration and a real example of the calibre of the work commissioned by Wesley and his team that makes the Sydney Festival unique in the international arts world.
"Supporting the Festival has, and continues to be, an inspiration and deeply satisfying experience," he continued. "It has also been a catalyst which has lead me to other arts endeavours, in particular working with the Walton Family Foundation – the family behind the world's biggest company, Walmart. I'm working on a new performance and arts precinct, The Momentary in Bentonville, Arkansas, alongside my good friend and the previous Sydney Festival Artistic Director, Lieven Bertels. RØDE Microphones will open a venue called The RØDEHouse in the world class facility, which will showcase Australian artists to the world's biggest market – America. This project would not have happened if not for my involvement with the Sydney Festival. It's been a remarkable journey."
Artistic Director, Wesley Enoch, saluted Mr Freedman's contribution to the Festival. "For Peter, acts of generosity are very personal… We hear many stories in our country of separation and pushing out. But from the artists at this year's Sydney Festival we are hearing stories of open arms and welcoming in. And Peter, you've been able to do that on a really personal level in your generosity to the Festival."
The Sydney Festival continues till the 27th of January. Shànghǎi MiMi is staged at the Riverside Theatre until January 20. Head here for more details. The Momentary launches in 2020.